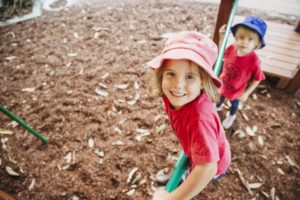 "Being a part of the Alderley Kindy community has been a joyful experience for our family. Not only has my daughter made connections with staff and  playmates, but I have also formed supportive friendships with staff and like-minded parents. One of the most special things at Kindy is the beautiful tree-house fort that provides opportunities for playing, learning and climbing and reminds me of my carefree childhood climbing trees! Highlights inside include science experiments, yoga and a meaningful and ongoing understanding of Aboriginal culture.  My husband works away a lot, so he especially loves receiving photos and reports on what happened during the week. Alderley Kindy is a really special place."
"My children both stated day care a few days a week from the age of 1. In my busy whirlwind of life, I assumed that was child care sorted until school started for them at age 5.
It was my sister who opened my eyes to specific kindy programs – that they exist and what they offer that is different to a long day care program. Gosh am I glad that she did and that my daughter has got to benefit from this very special year at Alderley Kindy.
The key benefits of kindy for my family are:
My daughter is part of a team. She's with the same group of children every kindy day. They are the same age and they all start and finish at the same time (with OHC helping some families). She's made some wonderful friends and really developed as part of a peer group as a result.
The class format offers wonderful structure to prepare for school, but also lots freedom to embrace learning through play in a way that suits the whole class. They have morning meetings to plan and take ownership for what the day will bring and have amazing teachers to help them bring their ideas to life.
The dedicated and skilled teaching team are so good at identifying children's strength and weaknesses as they learn and develop and prepare for life after kindy. Examples of this include the regular obstacle courses to make developing gross motor skills fun, creative and inspired craft sessions to work on fine motor skills, and the encouragement of their imagination to create games based on Drs surgeries/racing cars/farms/outer space and all the other things amazing things they do.
Out of hours care is such a benefit at Alderley. It's sort of like having the best of both worlds with long day care and kindy. We can book regular morning and afternoon places, or just call in the day if we are running late
For anyone with a child turning four before the end of June 2019, if they're not already booked into a kindy program, I really encourage you to come and have a look at Alderley Kindy.It's the most wonderful year I could have ever hoped for, for my daughter."